You are here:
Professional Pest Control Company
Professional Pest Control Company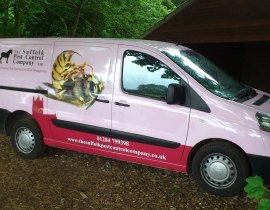 The Suffolk Pest Control Company Ltd is based just outside of Bury St Edmunds and we provide professional pest control services accross Suffolk and into our neighbouring counties.
We first came to life in December 2008 with the simple concept of providing professional pest control locally at a fair price, we care about our reputation and respect for all the creatures that we deal with, no matter large or small.
As a company we discovered that it was our level of service which brought our customers back to us, and gained us referrals. It has always been our policy at Suffolk Pest Control to treat our clients as we would hope to be treated ourselves! Your satisfaction is our main objective, which firstly means we get the job done; we turn up on time and ensure that our service offers great value for your money.
We take our responsibilities to the environment, the public and all wildlife very seriously and meet all of our legal requirements both by our actions and in the spirit in which we operate.  To achieve our goals we employ the latest pest control products and innovations as well utilising traditional methods whenever most suitable.
Meet the team