Professional Pest Control & Wildlife Management
You are here:
Clothes Moth Bury St Edmunds
Clothes Moth Bury St Edmunds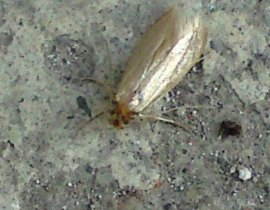 Clothes moth are a common pest in homes around Bury St Edmunds. They often arrive in homes on second hand furniture and rugs, however they can simply fly in through an open window.
Common clothes moth and Case Baring clothes moth are the most prevelent of the species which affect homes around Bury St Edmunds. The adult moths are one of the first indicators of a problem, but more usually its when a piece of furniture is moved that a patch of carpet which has been destroyed is found.
The adult moths do not actually harm carpets or materials, it is their larvae which do the damage. The adults lay eggs which hatch out on a suitable material and begin to munch through carpets and clothing, fortunately we have potent products which usually bring a clothes moth problem under control within a few days of our treatment.
If you require help with a clothes moth infestation in Bury St Edmunds you can call us on 01284 799398 for some free advice or to make an appointment.