Professional Pest Control & Wildlife Management
You are here:
Mole Control Bury St Edmunds
Mole Control Bury St Edmunds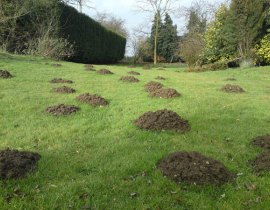 The removal and control of Moles in Bury St Edmunds and the surrounding villages is one of our main lines of work.
Successful mole trapping comes with experience and knowledge of mole behaviour and the use of the right traps.
We carry three main types of professional mole trap for use in gardens and lawns around Bury St Edmunds. Usually we expect to have the moles caught within two visits however we often come accross a mole which has become 'wise' to a particular trap, this is when experience and cunning come to play. Choosing the correct type of mole tunnel and selecting the right trap is paramount to our success.
Our charging for mole control in Bury St Edmunds begins with an initial fee (please call for prices) which covers the first two moles we remove regardless of the number of visits required. Any additional moles have a 'bounty' on their head (typically £12.00 each) so you only pay us for the moles we catch.
If you would like to know more about our mole control services in Bury St Edmunds or to make an appointment please call us on 01284 799398. We are based just out side Bury and will be with you before the moles completely destroy your lawn!