Professional Pest Control & Wildlife Management
You are here:
Moth Removal and Control Bury St Edmunds
Moth Removal and Control Bury St Edmunds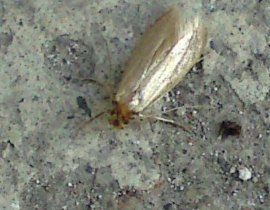 We provide professional help with clothes moth problems in Bury St Edmunds and the surrounding areas.
Clothes moth can really destroy carpets and clothing if left unchecked, although the adult moths are not the problem - it is their larvae which chew through fabrics and often leave holes in carpets.
The first sign of a clothes moth infestation will usually be either noticing some 'goldie' coloured moths low on the walls or discovering a hole in the carpet when moving furniture.
Many of our clients with clothes moth problems have tried in vain with various shop bought products only to have the moths return time and time again. Our treatments usually work first time everytime.
We use professional insecticide sprays which can penetrate fabric and carpets to kill the larvae and any emerging adults, an additional service is to treat the property with our ULV machine (Ultra Low Volume - uses tiny amounts of insecticide and has amazing pentration and knock down effect on all insects within the home) which ensures any rogue adult moth do not escape to start laying eggs again later on.
If you need help with a clothes moth problem in Bury St Edmunds or one of the surrounding villages give us a call on 01284 799398 and we'll be happy to help you out.