Professional Pest Control & Wildlife Management
You are here:
Pest Control in Woodbridge
Pest Control in Woodbridge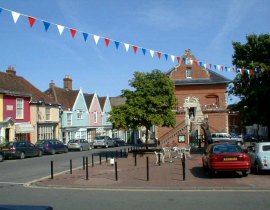 Woodbridge is home to many of our customers. It is also home to many pest control problems!
Wasp nest removal and hornets nests is our main call-out in Woodbridge over the summer months. Wasp nest treatments usually are complete within a few hours of our technicians tackling the nest. Clothes moth, fleas and carpet beetles are also a very popular pest problem in and around the Ipswich area.
Rat and mouse infestations happen throughout the year but are always most common towards the end of autumn and winter. These rodent infestations are often first realised when noises are heard in the walls and loft.
Cockroaches and Bedbugs are on the increase in Woodbridge. When dealing with cockroaches and bedbugs we advise you to call the professionals as soon as possible. In our experience 'domestic products' at best only offer limited relief from such problems. Our technicians carry the very latest and best pet, child and environment friendly insecticides to eradicate these pest problems as quickly as possible.
If you live in Woodbridge and have a pest problem, whatever the size, call us on 0800 046 7433 for a reliable and professional pest control service.