Professional Pest Control & Wildlife Management
You are here:
Pest Control Services
Pest Control Services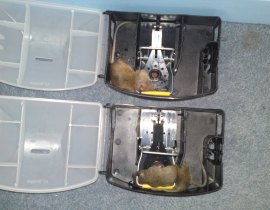 The Suffolk Pest Control Company Ltd provides a wide range of services in the field of pest control and wildlife management. We provide 'one-off'  treatments (such as wasps nests or rodent removal) to service contracts with commercial and domestic clients.
The more common pest control services we carry out are routine inspections of business premises as well as treatments at domestic properties for rodent infestations, wasps nests, mole trapping and fumigation. More unusually we also provide a Honey Bee relocation service and we believe we are the only firm in the country to offer the live capture of Muntjac deer.
Our wildlife management services include the removal and exclusion of rabbits, traditional mole trapping, habitat for wildlife and deer management. All of our pest control services are as humane as possible.
Wasp, Bee and Hornet Nest Removal
Masonary Bee Treatments
Rat and Mouse eradication
Mole Control
Flea and Fly Fumigation
Insect control (Ants, Moth, Beetles, Spiders, Cockroaches etc)
Rabbit , Squirrel and Deer proofing and removal
Ongoing service agreements for businesses and organisations
Electric Fly Killers – supplied and serviced
Fly Screens – installed
Electric Netting and Fencing
If you would some advice on pest control services, make an appointment or would just like to ask us a question please contact us, we'll be in touch as soon as we can.