Professional Pest Control & Wildlife Management
You are here:
Rats in the Garden
Rats in the Garden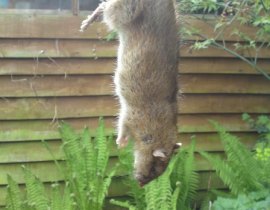 Firstly do not panic, virtually every garden will have at least one rat run through it every now and again. If you have only seen one rat, on one occasion we would advise you to be vigilant, you may not have a problem which requires attention.
If you are seeing rats regularly in your garden it would be reasonable to assume that there is an infestation close by if not on your property.
Signs of an infestation include holes under bushes and shrubbery (rats will only excavate where cover is available, rat holes in the open are an indication of rats tunnelling up from somewhere), rat runs – tracks normally along the edges of gardens, along walls, under cover etc, droppings, gnawing to anything from wood to brick, noises – a heavy infestation of rats will echo with the noise of battles for dominance within the society, noises in lofts is a strong indication of a rat  within your home - especially when rat activity has been noticed outside.
Decking is prime real-estate for rat infestations. The cover provided by decking allows the rats the confidence and security to create nest sites. Decking can be an obstacle when trying to deal with rat infestation problems.  
Traps and bait must be used carefully in gardens to prevent access by children, pets and non-target species. Open bait trays and loose baiting must never be used in the open, large rat bait stations must be employed.
Bird feeders are a magnet for rats. The regular supply of food will encourage them to look for nest sites close-by. If possible try to remove any uneaten bird feed before dark each night, by removing a food source you may prevent an infestation becoming established in your garden.
Garden sheds like decking are an ideal location for rats to bury under, they will also commonly gnaw their way into garden sheds by chewing through the floor. Old grass seed and bulbs left in sheds can be a useful source of food for rats.
We provide a professional solution to rat infestations, using the best products and knowledge to acheive the eradication of any rat infestation quickly and humanely.
If you need a professional pest control technician to deal with a rat infestation on your property call us on 01284 799398.