Professional Pest Control & Wildlife Management
You are here:
Cluster Fly help
Cluster Fly help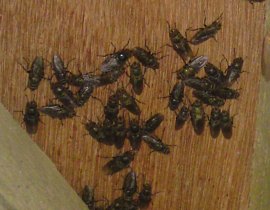 Cluster flies are one of the common pest control problems we deal with through Autumn when they come into homes and lofts to hibernate. Throughout winter when we experience the odd warm day cluster flies can come down from loft cavities and enter rooms - often through down lights.
In spring the flies which may have gathered in great numbers will want to leave the safety of their winter hiberation - which can mean you discover large numbers of cluster flies in your home.
We have treatments which will kill the flies prior to there emergence in spring.
Care must be taken as lofts are often home to bats which are protected.
Please feel free to call us for more information or view our pages on cluster flies and cluster fly treatments