Professional Pest Control & Wildlife Management
You are here:
Wasp Nest Control
Wasp Nest Control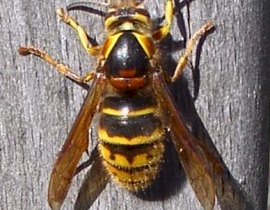 Have a wasp nest in your home/garden?
Want it removed as fast as possible?
Unsure if they are bees?
Every summer we speak to hundreds of people and visit as many homes to deal with unwelcome wasps nests.
Our wasp nest treatments are safe and extremely effective - our customers usually find their wasps nest has gone quiet within a few hours of our arrival.
We prefer to tackle wasps nest from outside targeting the entrance holes but we often crawl into loft spaces to apply our professional products directly into the nest.
If you would like to speak to a human straight away, if only for your own peace of mind or to make an appointment call us on 01284 799398. Help is just one call away.