Professional Pest Control & Wildlife Management
You are here:
Un-marked vehicles available
Un-marked vehicles available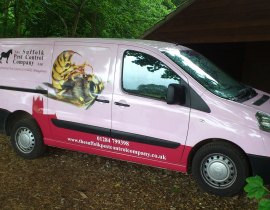 Hopefully you will have seen our main van on the road, its hard to miss; bright pink with a wasp on both sides!
If you feel sensitive to having a branded pest control van outside your home don't worry, we have a second vehicle which is plain white.
Should you need our plain white van to attend to your pest control problem please inform us and we shall endeavour to achieve discretion.